I'm constantly updating this post as I try out different places with my dog – so please forgive its unedited and rough-draft form… I've had to take comments off the blog post as I was getting so much junk mail. But please do send me any suggestions for additions to this blogpost by email liz@lizhollis.co.uk
I spend a lot of time wandering around Norwich looking for a good coffee or lunch with my chihuahua-cross Snoops in tow. I thought it might be a good idea to keep a record of all the good places I have found.
So here's my guide to dog-friendly cafes, restaurants, shops and places to go in Norwich.
Merchant's House
My new favourite for cold days. They don't have a kitchen so the menu isn't extensive for food. However, the toasted sandwiches are tasty – although the cranberry and brie is a bit jam heavy. The coffee and drinks are great, the cakes are delicious and the service is quick and friendly. Most of all, it's one of the few places you can take the dog for lunch where it is warm and really comfortable. I recommend the ham and tomato toastie.
The Merchant's House, Fye Bridge Road, Norwich
Timberhill Bakery
My  is worth checking out. Lovely food and a welcome for the dog. The food is delicious and you can buy loaves of sourdough to take away. Coffee reputed to be among the best in the city – and that coming from a coffee-loving Italian woman I sat next to who wouldn't go anywhere else now for her caffeine fix. Sit outside in the summer. Gets packed so get there early for lunch or wait until the rush has passed around 2pm.
Sourdough scones with juicy pear are a favourite but the sourdough toasties are great too. I've tried the Pesto Margharita £6.50 and also the roast veg, avocado and almonds tartine, £7. Portions relatively small so followed it up with an Apple and Ginger Cake £2.95.
The bakery is an independent business, established in 2007 near Cardiff. They pride themselves on making natural, organic food without the pretentious preaching – apparently.
timberhillbakery.com Keep an eye on their website for opening hours. The owner is writing a book so has reduced the hours to just Fridays 8-3pm and Sat 8-4pm. These may change so check before you go.
Bread source
Bread Source bakery has opened a new shop in The Lanes, in Norwich. There's seating opposite outside for dogs so this is a favourite in summer. Unfortunately, you can't take dogs inside so it's not great in the winter. Can recommend the cakes. Tried a savoury-filled croissant I wasn't so keen on but I love the vibe.  Bread Source 
Bicycle Shop in Eaton Park
What could be nicer than a stroll in Eaton Park followed by a flat white at the very dog-friendly cafe run by the Bicycle Shop. Lots of dogs, lots of kids, lots of runners, lots of nice food and coffee. Highly recommended. Find it by the bandstand in the centre of the park.
Here's my dog Snoops enjoying the sunshine here this morning…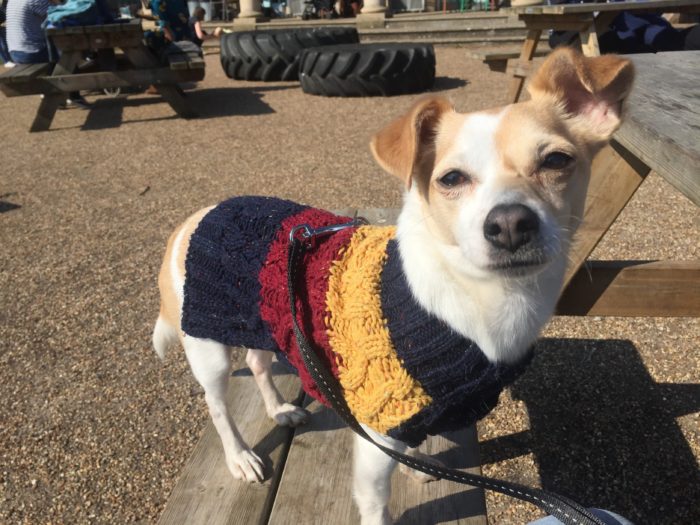 Cafe Pure, St George's Street
This is good for lunch and very welcoming with your dog. Great food, especially the soup and happy for me to bring my chihuahua cross in with me. Gets pretty busy at lunch though and can be hard to find a seat – probably because the food is so good.
Storm in a Teacup, Elm Hill
They're not so keen on huge dogs as it's a small cafe. But if you ask, they usually let you take smallish dogs in. Nice food, but can be a little noisy and windows steam up a bit when it rains.
Carberry's
18 Wensum Street, Norwich 01603 613126
Resident giant golden retriever Toby is a major attraction at this informal cafe – although I have had to stop going there as my chihuahua is a bit aggressive towards him. It's not Toby's fault. He is the gentlest of dogs. He's so laid-back he adopted a submissive pose on his back when meeting my chihuahua but Snoops snarls back – bit stressful over lunch. The food is good – toasted sandwiches, jacket potatoes, panini. Portions fairly big and quite mayo heavy but still tasty. The staff are extremely friendly and easy-going and the cafe has a stream of regulars popping in for their lunch.
Cupcake & Co
Bespoke bakes
83 Upper St Giles St, Norwich, NR2 1 AB 07585 443801
A snug cafe selling cakes as well as vegan and gluten-free bakes. Very dog-friendly and even has their own baked dog treats.
Tofurai
Pottergate Norwich
This vegan cafe sells amazing cakes and is quite happy for you to take your dog in. Most of the seats are bar-stool height and there are only a couple of low chairs which makes it a little tricky with a dog. But the food is good and it's worth a visit.
The Mitre
Cafe, Earlham Road, Norwich
Plenty of space in here, so it's great for larger – or more than one – dog. Lots of people meet here for coffee after taking their dog for a walk in nearby Heigham Park. Food isn't the most stunning,so I usually opt for coffee and a cake. A big advantage is there's parking outside, handy if like me you're meeting somebody who can't walk that far. The cakes are delicious and the coffee great.
The Tea House
The Tea House, Elm Hill
A friendly cafe with a terrace out the front and tables in the garden at the back. Well-behaved dogs are also allowed indoors. The owner even brought my dog a bowl of water. Toasted sandwiches were particularly tasty.
Dyrrah Coffee
A new cafe in Earlham House shopping centre. Coffee is great, haven't heard great reports about the food (my parents visited and didn't enjoy their sandwiches much). However, the dog-welcome is good and there's seats outside in the summer. A great place to sit and people-watch while ordering repeat coffees.
Olives
Elm Hill. Haven't tried this yet myself but there's a sign on the door that says 'dogs welcome'. However, closed on a Monday which is how I ended up trying the nearby The Tea House instead.
Pubs
The Parson Woodforde
Weston Longville. www.theparsonwoodforde.com
A 20-minute drive from central Norwich, but dogs welcome here if you fancy a country walk and a pub meal after. Hearty, country food although portions a little big and unhealthy for my liking. But good quality and reasonably priced at around £12.95 on average for a main course. I opted for hake, sauteed potatoes and green beans. My friends choose the liver and bacon, burger and fries and steak and kidney pie. Everybody was happy with their meal. I'd just prefer a few healthier options. We went in the evening, but there is also a tempting afternoon-tea menu.
Other pubs I haven't tried myself yet
The Eaton Cottage
This one is recommended by @Tom Albrighton via LinkedIn who also suggests 'perhaps surprisingly, The Cosy Club.'
The River Garden, Norwich, and The Green Dragon, in Wymondham
Thanks to @Lucy Wright, press officer, journalist and blogger for these two suggestions above via LinkedIn. 'Our dog is a regular,' she says.
William & Florence, Unthank Road
This one is recommended by @Richard Balls: 'My fave cafes are Eaton Park Cafe, William & Florence, Timberhill Bakery and Artel in London Street. Most pubs are dog-friendly these days, but I can vouch for The Beehive, Eaton Cottage, Rose Tavern on Trinity Street, Alexandra Tavern and Earlham Arms in particular.
Cellar House, Eaton
The Earlham Arms, Earlham Road, Norwich
The Black Horse, Earlham Road, Norwich
The Eagle, Newmarket Road, Norwich
Shops that don't mind you taking in a dog
On the floor
Thorns
Go Outdoors
In your arms
Lisa Angel
Dog-friendly Norfolk
Lots of suggestions coming in for places outside Norwich too…
@Amber-May Meadows, designer at Foolproof via LinkedIn. Recommends Centre Paws / Blueberry Cafe in Wymondham is brilliant! Loads of parking, lovely walks (with baby lambs at the moment!) and the food is great. My dog especially likes the Dog icecream!
@Richard Drury Photography 'I did a shoot for Pets at Home VIP magazine up in North Norfolk. We used Titchwell Manor, The Beach Cafe at Wells and the bookshop in Cley. All brilliant and super dog-friendly.'